In This Interview…
Greg Mortenson
"You can drop bombs, hand out condoms, build roads or put in electricity, but unless the girls are educated, a society won't change"
"If you want to fight terrorism, it's based in fear. If you want to promote peace, it's based in hope."

Greg on His Best Selling Book with Borders

Greg Mortenson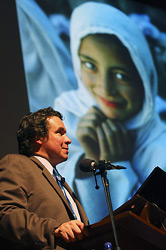 Greg Mortenson was born December 27, 1957. He is a mountain climber, former United States Army medic, and humanitarian from Bozeman, Montana. From 1958 to 1973, Mortenson grew up on Mount Kilimanjaro in Tanzania, where his parents were Lutheran missionaries. His father was the founder and development director of the Kilimanjaro Christian Medical Center, Tanzania's first teaching hospital. His mother Dr. Jerene founded the International School Moshi.
Mortenson attended Ramsey High School in Roseville, Minnesota from 1973 to 1975 and served in the U.S. Army in Germany. He attended Concordia College from 1977 to 1979, and later graduated from the University of South Dakota in 1983 with an Associate Degree in Nursing and a Bachelor's Degree in Chemistry.
In a CNN article by John Blake, he said "Mortenson was a big brother, protector and friend. He took his sister Christa to the Indy 500, the Kentucky Derby and Disneyland. But one of her favorite pastimes was watching the movie, Field of Dreams. Their mother promised to take Christa to the field where it was filmed for her 23rd birthday in July 1992, but she died from a massive seizure in her sleep on the morning of the trip. Mortenson decided to honor Christa by climbing K2."
In 1993, Mortenson went to climb K2, the world's second highest mountain, in northern Pakistan. "I felt as if there was an angel holding my hand, trying to take me to the top," he said. "When I lost that hand, I decided I better go down." Two local Balti porters took Mortenson to the nearest city, but he took a wrong turn along the way and ended up in Korphe, a small village, where he recovered.
What Mortenson found on his descent would test his will as much as K2. He would stagger into a remote Pakistani village, have his heart "torn out" by an unexpected encounter, and meet a girl who altered his life with one question: "Can you help me build a school?"  After a frustrating time trying to raise money, Mortenson convinced Jean Hoerni, a Silicon Valley pioneer, to found the Central Asia Institute. A non-profit organization, CAI's mission is to promote education and literacy, especially for girls, in remote mountain regions of Pakistan and Afghanistan. Since 1996, Mortenson has helped build 63 schools for children in Pakistan and Afghanistan through the nonprofit group, the Central Asia Institute.
Mortenson told the girl that he would build a school. Fifteen years later, he has helped build 62 more schools in Pakistan and Afghanistan. They are his 'Field of Dreams'. "I didn't know it would change my life forever." He has said "Once you educate the boys, they tend to leave the villages and go search for work in cities. But the girls stay home, become leaders in the community and pass on what they've learned. If you really want to change a culture, to empower women, improve basic hygiene and health care, and fight high rates of infant mortality, the answer is to educate girls." Even though he didn't place Christa's necklace on the top of K2, Mortenson said he left a better tribute for her: a school for girls who are just as brave as she was. "That's a much better honor to Christa than climbing a mountain. I think she would be happy."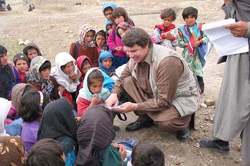 In the process of building schools, Mortenson has survived an 8-day armed 1996 kidnapping in the tribal areas of Waziristan in Pakistan, escaped a 2003 firefight between Afghan opium warlords, and received hate mail and threats from fellow Americans for helping educate Muslim children.
Mortenson believes that education and literacy for girls globally is the most important investment all countries can make, and the best way to 'fight' terrorism is to build schools free of the Taliban's oversight. Because of this, several of the school's Mortenson's group built were destroyed by the Taliban, but the communities rebuilt them.
Mortenson and David Oliver Relin are co-authors of the New York Times best selling book Three Cups of Tea. On BBC Radio in 2008, the BBC reported that Greg Mortenson had set up over sixty schools and as a result over 25,000 children had been educated. Pennies for Peace is a program Mortenson launched to involve American school-children in fund-raising efforts for the schools in Afghanistan and Pakistan.
Mortenson has received the following awards: the 1975 US Army Commendation medal, 1998 American Alpine Club David Brower Conservation Award, and the 2003 Climbing Magazine 'Golden Piton Award' for humanitarian effort.  In 2003, he received the Vincent Lombardi Champion Award for humanitarian service, the "Peacemaker of the Year" from Benedictine Monks in Santa Fe, New Mexico, the Outdoor Person of the Year in Outdoor Magazine and Salzburg Seminar fellowship. In 2004, Mortenson won the Freedom Forum 'Free Spirit Award' from the National Press Club and the Jeanette Rankin Peace Award, Institute for Peace.
In 2005 he won the Men's Journal 'Anti-Terror' Award by Senator John McCain and the Red Cross "Humanitarian of The Year" in Montana; in 2006 there was the Golden Fleur-de-lis Award from Italy. In 2007 Mortenson received the Rotary International Paul Harris Award and the Dayton Literary Peace Prize. As of 2008, Mortenson has received the National Award for Citizen Diplomacy from the Citizen Center for Diplomacy, the Courage of Conscience Award, and the 2008 National Award for Citizen Diplomacy from the Citizen Center for Diplomacy.
Mortenson has accepted honorary Doctorate degrees, from Concordia College in Minnesota, the University of South Dakota, Montana State University, Villanova University in Pennsylvania, San Francisco University, University of Washington, Lewis & Clark College in Washington, and Seattle University. He is married to Dr. Tara Bishop, a clinical psychologist, with whom he has two children.
Three Cups of Tea has won the Kiriyama Prize Nonfiction Award, Time Magazine Asia Book of The Year, the Nonfiction Award from Pacific Northwest Booksellers Association, the Montana Honor Book Award, a runner up for the Dayton Literary Prize Nonfiction Award, in People Magazine Critics Choice and was featured in Publisher's Weekly as a starred review.
"The real enemy is ignorance and ignorance breeds hatred. You can drop bombs, you can build roads, but if you don't educate girls, the society is not going to change."
http://montanakids.com/cool_stories/Famous_Montanans/Mortenson.htm
Transcript: Greg Mortenson on Building Schools in Afghanistan and Pakistan

March 2, 2007

HINOJOSA: Welcome to our podcast. This week we're talking to Greg Mortenson, co-author of the New York Times best-selling book, Three Cups of Tea: One Man's Mission to Promote Peace… One School at a Time (PH). The book is about Greg's incredible efforts to educate young people in Pakistan and Afghanistan. Welcome to Now on the News.
MORTENSON: Good morning, Maria.
HINOJOSA: It's great to have you on the show, Greg. You know you have so many fans across the country, across the world, who think that your notion of building one school at a time in countries that are not necessarily welcoming to Americans—many people read your book and think it's life-changing. Did you ever think that you would have that kind of an impact on Americans?
MORTENSON: No, I—I just started out—I was a (UNINTEL) climber on K2 and stumbled into a village in '93. And I made a rash promise that I would help build a school. And this kinda led from there. And I—I think part of it has to do with what I call, thinking from your heart or your intuition. But I never could envision this. And I—I never realized that—(LAUGHTER) where we'd get to.
HINOJOSA: And I'm sure you never thought you would end up building more than one school over there. I wanna start Greg, by asking you the question that is—is really on the news—your response to this report that Pakistan has arrested a Taliban chief, Mullah Obi Ai Dullah (PH). He is considered a—a—a very high level of the Taliban to be arrested. When you see this kind of news about an important member of the Taliban being arrested, what goes on for you?
MORTENSON: Well Maria, I think it's great. And you know, given all the resources and money and everything we—we spend into capturing or killing terrorists or al-Qaeda or the Taliban, that—you know it's—you know, it shows that there's some progress. Unfortunately, against the—the backdrop of that is the fact that the international community, the Pakistan Afghan government, and—and the U.S., we've really failed to—to go to the—I—I'd say the next level, and that is to provide education and—and help for the children—with—with formal or secular education and give them opportunities. And—and it's—Taliban use large swaths of rural society to recruit—foot soldiers.
For example, after 9/11 the Taliban were about 20,000 strong. And then they had about 80,000 you'd say, semi-adherents, who a lot of them deserted right after 9/11. They had trouble getting soldiers to fight the eminent intervention by the U.S. and coalition. So they went in at gunpoint to many areas, and—and they had trouble actually getting recruits from areas where there was more education, wh—as women were refusing to allow their sons to join the Taliban.
And what—what is not really known about in the West very much is the fact that under Islam, when a young man goes on jihad—you know, we think of jihad as holy war, but it—it can also be a noble quest like—going on with your education or spiritual endeavor, or it could mean also joining—joining the Taliban. So a young man has to get permission and blessings from his mother. And if he doesn't do that, it's very shameful or disgraceful.
And also under we say, real Islam, suicide is—is perhaps the ultimate sin or—or atrocity a person can commit in the killing of civilians. So if a young—young man doesn't get that permission and—and he—he becomes a shahid (PH) or martyr, it's very disgraceful or—or he—he's not gonna go to heaven as he may—might think he does. But I've been criticized for saying that. But—even if you look at the 9/11 hijackers, certainly they were educated. Some of them even had university degrees. But—nobody really went and checked their mothers, who are nearly all illiterate.
And now that's a very strong deterrent—that we had the same thing you know, here—we do in the inner cities, where you have single mothers you know, who are impoverished and less education. Their son wants to get into drugs or gangs or violence, but if she has an education, she more likely—not—you know, condone her son to go into violence. And she'll encourage him to get a job or go on with his school.
HINOJOSA: And I wanna talk to you a little bit more about how strongly you feel about educating girls and women. But before that, I'm sure that many of our listeners kind of approach this and think, "You know, my sense," they might say to themselves, "is that if we go to Pakistan, if we go to Afghanistan, any American is considered an infidel, an outsider, someone who is hated and despised." Are we wrong when we have these images? Because you go out there, and you've done this—these projects of building schools solo.
MORTENSON: Maria, I started in '93. So I'm—I'm going on 14 years. Now I have very close relationships with many people over there. And I find that by—you know, in the great majority of communities—and I'm talking about rural and impoverished communities—they definitely support education. And it's the few extremists or radicals (UNINTEL) hijacked their religion and—their faith, and are trying to you know, propagate a very violent—ideology.
And it is—it is kind of frightening—the fact that 1980, there were about 300 extremist madrasahs (PH) in Pakistan and Afghanistan. By—by—2000—there were approximately 25,000 of these madrasahs with the (UNINTEL PHRASE) of four million children. And a madras, it's—it's also important to clarify—there's a madras, which is a—a place where children learn about Islam and the Koran in every single hamlet and village in the Islamic world.
And you know, 99 percent of madrasahs are very similar to confirmation or catechism or the bar mitzvah. But there are these other extremist madrasahs, mostly funded by Wahhabi (PH) adherents. And Wahhabi is one of the—the most extreme of the four Sunni sub-sects that propagate very violent type of ideology.
And these have flourished. They take the brightest young boys from the madrasahs. They send them to Yemen and Saudi Arabia for about a decade, indoctrinate 'em into the very you know, violent, militant type of Islam, send 'em back to the village, make him the richest man. And he has—he's—required to have four wives and have a lotta children.
So if you look at that—the Wahhabi plan or—or the extremist plan, it is to—it's over about 100 year plan. And we're trying to tackle this with billions of dollars and bipartisan bickering. And we—really—really need to look at education, I think, as an alternative. Even if we could invest one percent of the money that we put to the war on terror in education, it could have profound implications.
HINOJOSA: But you know, Greg, some people might say—especially when they hear your—your—the answer that you just gave, where you now have students who are being educated in this you know, k—as you say, violent form of—of Islam, what can one school here and there actually do against a hundred year plan to confront the infidels of the West?
MORTENSON: The way I approach this—you know, I'm actually an optimist, and you know it's easy to get pessimistic or—or—what I say is you know, if you fight terror, terrorism, it's based in fear. But if you wanna promote peace, it's based in hope. And—and what we're trying to do is look at the most extreme areas—either physical isolation, areas of conflict and war, or the third is—religious extremism. And we're able to, over several years, put flourishing, thriving communities-based schools, including for the girls, in those areas.
We have 58 schools, which doesn't sound like a lot. But—if you look at where those schools are, I think it's a tremendous credit to the communities that they value education. Including in—in Taliban strongholds, we have schools that—have girls coming to school.
HINOJOSA: Which is something that's really wonderful in the beginning of your book. When you have failed to—to scale the second highest peak in—in—in the world, and you're really devastated, and you get saved essentially and brought back to life by these people in this small village up in the mountains. And—and you realize that these kids have no school. And you write about their fierceness to learn. That's not necessarily how a lot of people may perceive these young kids, that there's a fierceness to be educated.
MORTENSON: Yeah, on fierceness, they don't have the distractions—no Nintendo, T.V. So these kids, they have to work quite a bit. They do manual labor in the fields and—and the household. But education for them is—is kind of like their greatest—joy in life. And—and you find there's a incredible learning curve.
They're riveted to their lessons. They take 'em home. They—they work with their parents, so we get these great results. And it's not all—Maria, it's not all perfect. Last year, two of our female teachers in Wolander Village (PH) and Charsea Valley (PH), which is the home of Hickmanteur (PH), who's also one of the most wanted Taliban. And—and he formally was a mujahideen (PH) and freedom fighter again the Soviet Union. And now he's become a—the U.S.'s most sought-out person.
Anyhow, in his—his village, two of our teachers resigned last fall. They're female. So I went to their houses. I talked to them. They said, "We'll only go back if the Commandant Doud (PH)," who you might say is the warlord of the local co—commander, "will order us back." So we went to his compound. He has daughters in school. He—he became furious. And now he's posted six of his militia at the school and said that if anybody even looks you know, cross-eyed at those two teachers, or—or says anything to them, that—that their orders are to shoot them. So that's not n—normally how we operate. But—(LAUGHTER)
HINOJOSA: But you know, the interesting thing, Greg, is that you talk so much about a sense of hope and positivity (PH) and trying to find these human connections. The reality is that many of these people call you an infidel. You've had fatwas (PH) put out against you. It's not as if there is a sense of open arms to what you're doing.
MORTENSON: What the fatwa was and the—the hate is coming from a few of the despot mullahs. And these are in rural illiterate society. And they control that society with their l—they're often the only literate person. Or they have some education. And they do not want education in their areas because it'll empower the people.
And furthermore, they're even more antagonistic towards girls going to school because they do know that if—if the girls have an education, when they become a mother, then they've pretty much lost their—(UNINTEL) of their power. And often it's about—more about money (UNINTEL) Islam. In many areas, for each young boy that goes to a madras, the local mullah gets say, $50 to $80 per year, which—which is a lotta money. It's probably you know, like $5000 here in the States.
And when you put in a school, often many of the kids—including the boys and girls—will go to the school. And an example, that is in Pakistan in January 2004, there were eight girls' schools bombed in Tangir Valley (PH), which is a very tribal, isolated area. And it was in response to Musharraf (PH) putting in several new schools in the Valley the year before.
But what really happened was the fact that the madras enrollment dropped from about 500 down to about 80 students in one year. Most of the boys started going to school. And so the mullahs paid some Taliban to go and—and destroy those schools.
HINOJOSA: So you have clearly faced resistance, even violence, in the projects that you're doing in Afghanistan and Pakistan. But after 9/11, you also received death threats from your fellow Americans who said, "How dare you go and try to educate Muslim children?"
MORTENSON: I was in Pakistan and Afghanistan from August until October 2001. And I decided to stay. The U.S.—other than journalists and—and some—a few humanitarian aides—most of the people left the country. And everywhere I went—you know like a—widow named Hawah (PH) brought me five eggs to bring to widows in New York. And I was really touched by what I saw.
And when I came back to States, it was Halloween—Day, 2001. Went to my—my little office in the basement. I start opening up my mail. And I start getting hate mail. And subsequently I start getting death threats. And even now with the book out, I've—we've been getting—very threatening e-mails and some phone calls.
HINOJOSA: What is the greatest misconception that we Americans have gotten because of the reporting? What is the reporting missing that we need to know?
MORTENSON: The good facts. In Afghanistan today—and I've been in about 60 cities, Maria, in the last year, talking to—you know, thousands of people. And I ask the same question. "How many of you know that in Afghanistan today there are 4.2 million children going to school, and during the Taliban time there were 800,000 kids going to school?" And—and so far, you know I'm probably talking maybe 30,000 people, not one hand has come up.
You know, that America's not aware of that. And you know, that may be what you say is a counter to those four million children in madrasahs. And—and obviously, it—it's only a drop in a bucket. But that is, to me, very positive news. And it's probably the most hopeful news that I could try to convey to the American public.
HINOJOSA: Greg, are you hopeful at this point? Do you see a light at the end of the tunnel?
MORTENSON: I do. And it's—but it's a tunnel. And Maria, it's—I—I unfortunately think it's gonna get worse before it gets better. But I do think that you know, those four million children now in Afghanistan and—and in Pakistan, and that's where the real hope is. And—and that's another decade or two down the road. And I'm hopeful, because you know, I have two children. And when I look into the eyes of my children, I see the children of Afghanistan and Pakistan. And—and I'm willing to do whatever it takes to you know, live—leave them a legacy of peace. And—
HINOJOSA: Thank you so much for joining us on Now on the News.
MORTENSON: Thank you, Maria.
HINOJOSA: Greg Mortenson is co-author of the New York Times best-seller, Three Cups of Tea: One Man's Mission to Promote Peace… One School at a Time. For more information about Greg's work, you can visit our website at www.pbs.org/now. Thanks again for speaking with us, Greg.
MORTENSON: Thanks, Maria.
HINOJOSA: I'm Maria Hinojosa. We'll talk to you again next week.

NPR Interview
February 7, 2002
Fresh Air
with host, Terry Gross
This is FRESH AIR. I'm Terry Gross. My guest, Greg Mortenson, first went to Pakistan to climb K2, the second-highest mountain in the world. He didn't make it to the top, but he fell in love with the region. He returned in 1993 with a different goal: to start schools in Pakistan, with an emphasis on educating girls. He founded the Central Asia Institute, which has built 22 schools and created 11 schools without buildings. Some of his schools are in Afghan refugee camps. The institute has also created two dozen potable water projects and five women's vocational training programs. To set up these programs, Mortenson has worked closely with religious and tribal leaders. He now divides his time between Pakistan and his home in Montana.
He started building schools for girls one year before the Taliban began its insurgence. In 1996, the Taliban took over Afghanistan and made it illegal for girls to go to school. Mortenson says that even before the Taliban, educational options were shutting down in the region. He blames that largely on cuts in aid from the US.
Mr. GREG MORTENSON (Central Asia Institute): In 1989, after the Soviets withdrew from Afghanistan, the aid to Afghanistan dropped from $850 million down to about $170 million in one year.
There also was the Larry Pressler amendment in '89 which banned the sale of 20F-16 fighter jets to Pakistan. With that, the US was worried that the F-16s could carry nuclear bombs that Pakistan had been working on. With that, there were a lot of tag-alongs, or add-ons, to the sanctions in the amendment that was tied to debt repayment and loans that Pakistan had defaulted on.
The World Bank funding dropped with more sanctions. Hundreds of schools closed down in the tribal belts in western Pakistan and eastern Afghanistan. There were tens of thousands of boys who had aspired to improve their lives through education, and they ended up joining religious madrassahs or the Islamic schools, which predominantly are funded by Saudi Arabian Wahhabi. Wahhabi is the most strict sect of Sunni Muslims. And so just as the sanctions and schools were getting closed down, there was the opportunity of more and more madrassahs opening up, and students began to go to school at madrassahs, which became fertile recruiting grounds for the Taliban.
Over 80,000 boys who have gone through madrassahs joined the Taliban at one time or another. Ironically, it was the terrorist groups who recognized the value of, i.e., education, more than the development agencies, and what we were working–and we started back then is to provide education, community-based education, which is a deterrent to this stagnant–boys who have nothing to do, and also a long-term solution as far as giving them hope and opportunity.
GROSS: Do you see it as paradoxical that American sanctions that withheld certain aid money helped close down the schools, which helped build the power of the madrassahs, the religious schools?
Mr. MORTENSON: Right. If you draw that out on a chart, it's very interesting. It almost happened at the same time, and one thing evolved into another. And even today–I met some Taliban when I was in Pakistan in October last year, and without exception–this is about 10 different Taliban–they said they would never join the Taliban if they had a job. When somebody signs up for the Taliban, they got a $300 bonus. They went to three weeks of training, then they got an assignment for six months. When they got done, they would get a $200 bonus.
If they had had education or if they had had economic–some type of incentive or a job, all the ones I talked to, at least, said they would never join the Taliban.
GROSS: What made you think of starting schools for girls, as opposed to schools for boys?
Mr. MORTENSON: I met a very old professor in New Delhi. His name is Pritpal Singh. He was one of the senior statisticians with the United Nations, and he basically drew out a chart to show me that fifth-grade level girls' education is the single most important thing you can do to literally improve the quality of a society in that part of the world. And the chart really got me motivated to work on girls' education.
GROSS: What's the theory behind that? Why does girls' education improve the society?
Mr. MORTENSON: Well, basically, by having literacy and educating girls to that level, they have a greater awareness about hygiene and sanitation, and they can read different charts and diagrams, and they also have a better understanding about family planning and hygiene that seems to be more instilled. And also, there's the old saying as these societies are changing, most of the boys and men leave the villages, especially the educated ones, but the women stay behind, and they're the essence of the community, so when you educate a girl in the village, that will remain in the village and that value of education will go to the next generation.
GROSS: The Taliban banned education for girls. So I imagine that over the years that you've been building schools in Pakistan, that you've had Islamic leaders tell you that girls really shouldn't receive an education. Has that happened much where you were told that?
Mr. MORTENSON: Initially my third year there I'd completed the first school, and I was looking at other options in some remote areas. But I met resistance from the village mullahs or the sharifs or the religious head leaders in each village. And most of all it was about that they were the only literate person in the village and they could issue edicts or it gave them a lot of power. So I contacted Said Abas Resvi(ph), who's the head Islamic leader in northern Pakistan. He's a Shiite Muslim under the auspices of the Iranian ayatollahs. We wrote a letter to Kholm, Iran, to the council of ayatollahs. And about nine months later, we got a letter back.
I was called into the middle of a mosque in a kind of inner sanctum. Eight mullahs were there, very imposing. And they brought me this red, velvet box. I thought this was it. I'm going to get kicked out of the country. Instead, Said Abas opened the box and inside was a letter in the ornate Persian Farsi script which basically said that they have reviewed my request. In the holy Koran, there's nothing that prohibits education. In fact, it encourages education for both our, quote, "brothers and sisters," and, furthermore, that me as an infidel had not only their approval but their blessings; the work that I was doing was in the highest principles of Islam.
And after we got that letter, basically within a few weeks, we've got dozens of proposals and now we can't keep up with the demand. We have requests for over a hundred girl schools in both Afghanistan and Pakistan.
GROSS: Where were you on September 11th?
Mr. MORTENSON: I was in Zutcon Village(ph) in Charposen Valley(ph). It's on the Afghan-Pakistan border in the extreme north of Pakistan. It took about eight hours for the word of the incident to get to me via jeep, porter, donkey, mule. These are illiterate people. They told me that a village had been bombed in New York and 50,000 people had been killed. These are people who hadn't seen a skyscraper or an airplane. And immediately I noticed there was an outpouring of sympathy. I met with Islamic leaders in prayer sessions and they, without exception, told me that this was not in accordance with Islam and that these were terrorists. Village army commanders, village chiefs, children, women–they embraced me. Little old ladies brought me eggs in sympathy to bring back to New York to give to the widows who had died in the World Trade Center. And what I saw and felt over the next two months certainly didn't reflect what I saw in the press when I came back here to the States.
GROSS: Well, when you were told that a village in New York was bombed and 50,000 people died, what did you think and how did you find out what had actually happened?
Mr. MORTENSON: At first it was hard to believe, and there was also a great–they told me that the US would begin a massive retaliation and also the Taliban would begin attacking villagers. So there was some panic and fear. I wasn't able to talk to–this was a place without electricity, telephone, fax or radio, TV. So I sent a message to go get my satellite telephone. It took a couple days to reach me, and there I got to talk to my wife and get more kind of accurate information. But what I immediately saw was just a really outpouring of sympathy.
GROSS: My guest is Greg Mortenson, founder of the Central Asia Institute which builds schools for girls in Pakistan and in Afghan refugee camps. We'll talk more after a break. This is FRESH AIR.
(Announcements)
GROSS: My guest is Greg Mortenson, founder of the Central Asia Institute, which builds schools for girls in Pakistan, including in Afghan refugee camps. What you've described on a whole is a very positive reaction to your work, but I know in 1996, you were kidnapped while you were working in Pakistan. What happened?
Mr. MORTENSON: I was visiting a water project in the tribal areas which is near Khowst in Afghanistan where the US bombed in 1998 in August. And I got actually involved in a tribal dispute. And 2 AM eight men armed came into my room. They blindfolded me, took me out. They were all armed. And they brought me–and walked down a hill in a pickup. We went to another place two hours away, and I was held in confinement for eight days. They treated me well. However, I didn't know if I was going to get killed. I didn't know what had happened, if I was being held for ransom. And I noticed on the third day I got really depressed. So I thought I have to survive this. I had just gotten married and my wife was six months pregnant. The first thing I did is ask them for a Koran. And they brought me a Koran. And then, of course, I asked for somebody to translate or read it for me. And the second thing I did on the fifth day was to tell them that I had a firstborn son coming very soon, although I knew I had a daughter coming. And in that society, the birth of a firstborn is a very important event.
On the eighth day, they again wrapped up my head with a turban, took me down the path. We went in a pickup and down to a clearing about 5 AM. And just as the sun's coming up, I was in this place with about 200 armed warriors. And they had been fighting for over eight days. And they had used me kind of as a bargaining chip and their dispute was over and they released me to a barrage of gunfire in the air and they were all hugging each other. It was a very strange event, but I learned from that time on to really acknowledge the traditions, their ancient tribal codes.
The Pashto, who dominate that area, have three things in their code of conduct. One is nanawati, which is the rite of refuge or hospitality. If you ask them for permission to come in their society, they will give you their hospitality, refuge. The second is kerat, is that all the community will be involved in decisions, and the third, puksto(ph), which means hospitality, and they'll give you incredible hospitality. I had gone there without being invited, and had I perhaps first sought the permission of the tribal chief, I doubt the kidnapping would have happened.
GROSS: How did you feel about lying and and saying that you were expecting a son when you knew you were having a daughter?
Mr. MORTENSON: Well, I knew the difference, and at that point, all I wanted to do was survive and get home, so I felt it was OK to lie a little bit, but in the end, I've gone back and talked to the people there, and they somewhat knew that I might not be telling the truth, but that I was trying to kind of understand their code and what's important to them, to see across the cross-cultural barriers.
GROSS: So you went back to say, among other things, it wasn't really a son, it was a daughter?
Mr. MORTENSON: Yeah, and I brought pictures, and they invited me back, ironically, and now they're asking for help in the area since the Taliban have left the area.
GROSS: Why did you go back?
Mr. MORTENSON: I wanted some closure and also, I think they taught me a very important lesson. Most of the foreigners who get into trouble, it's not seeing across the culture barrier, and I wanted to show them that I had learned and accepted their way, and also I basically–they invited me back, so I wanted to go there and get some closure on it.
GROSS: I imagine there's things that you didn't necessarily want to accept. I mean, I can see there must be a lot of dilemmas, working in Pakistan and working with Afghan refugees, because on the one hand, you want to respect and understand and often accept the culture. On the other hand, there are aspects of the culture that you don't accept. For instance, you don't accept those within the culture who think that girls shouldn't be educated.
Mr. MORTENSON: Right. And it's taken me several years. There's a saying that you can rent an Afghan, but you can't buy one, and basically, you need to win their hearts. Recently, with the military and a lot of the bigger news agencies, they've been handing out dollar bills like candy, and they've been able to glean support for our activities over there. But to win the hearts of the people, it really takes three cups of tea. The first cup of tea, in the first sitting, you're a stranger. The second cup, you become a guest and the third cup, you become a family. The process takes several years. It's kind of like the two-minute football drill or the 30-minute power lunch, American power lunch, really doesn't work over there.
And so I'm here in DC. I was talking to some congressional committees about working over there. It's an entirely different mind-set, and what they do is very significant to how long-term solutions will be. Another thing that I talked about was about the Afghan civilian deaths and casualties in the bombing campaign. Rumsfeld talked about that the American people wanted to know what had happened and the truth, and there have been probably around 4 to 5,000 Afghan civilian casualties.
If we could, as a country, acknowledge the casualties rather than discreetly disavow them or sweep them under the carpet, go to those people, maybe perhaps apologize, give them some compensation, maybe $100 or $200 per casualty. That would elevate the people who died in the campaign to a high status, to shahid(ph), where they would basically go straight to heaven, and if by doing that we would not only win their support but win their approval that they've been part of a campaign for the freedom of Afghanistan.
But by disavowing or denying the casualties, what's happened has caused a schism and put up a wall instead of a bridge between us and the people there.
GROSS: I'm sure a lot of people have wondered, well, what are this guy's motives? Is he really a spy, and the stuff about setting up schools is just a cover so he can infiltrate us? Why are you doing this?
Mr. MORTENSON: Well, one thing is, my sister, Krista(ph), she had severe epilepsy and she passed away in '92. Originally I went to Pakistan to climb K2, the world's second-highest mountain, a year later to honor my sister's memory. And I didn't quite get to the top. I felt very disappointed and incomplete that I hadn't summited. And when I went back into the villages and saw the children, I first realized that this was really a way that I could acknowledge Krista's memory. And this sounds almost–How do I say this? And what about Krista that was really special was that she had a lot of determination and resilience, and despite her handicaps she inspired at least me, and many people she met. And I see that in the children that I work with.
Krista had always wanted to go to see the Field of Dreams in Dyersville, Iowa. On July 30th my mother was going to take her there. And she had packed her bags the previous night. My mother went down to get her at 6 in the morning, and she found Krista dead in her bed. So in many ways, I see the Field of Dreams that Krista was wanting to go to in the schools that I built. So I guess that's what really motivates me.
GROSS: What's the connection between your sister and schools?
Mr. MORTENSON: She had difficulty learning how to read and write, and everything was a challenge for her. And I see that over there with many children, just the obstacles that they overcome to get to education. The kids, some of them, walk five or 10 miles, 15 miles, to get to school. Many of them are hungry, but some of them have lost their parents, but they still really are dedicated to try and get their education, and they'll do anything. And they're very similar to what I knew in Krista.
GROSS: How well did you get to know people in that region when you were climbing K2?
Mr. MORTENSON: I first went in and I was very focused on the mountain, but coming out, there were some people that nursed me back to health, and I spent three weeks in the village. And I've gotten to know them very well. I know the names of probably at least half the students. I speak the languages, different ethnic languages there. And more than that, I've gotten to know different women in the villages over the years. I've found out that they're up against great adversity.
GROSS: You said that after you'd climbed K2 that the villagers in that region of Pakistan nursed you back to health. Why did you need the nursing? What happened?
Mr. MORTENSON: Well, when you climb a high mountain–K2 is over 28,000 feet high–your body starts to deteriorate. I lost about 30 pounds. I was emotionally exhausted. It took a supreme effort to try and get to the top of the mountain, and I could barely make it back down the mountain, let alone carry my load of about 80 pounds, seven days back to the road where the jeep was and the nearest village. So the villagers, they carried my loads, they fed me their local payucha(ph), which is salt tea, and korba, their unleavened bread. And when I got–I could barely make it back to the village, and in that village was where they put blankets around me and gave me their local food, and just kind of incredible hospitality and I think, more than that, just cheered me up, because I was a little bit despondent at the time, mainly because I hadn't made it to the top of the mountain.
GROSS: Greg Mortenson is the founder of the Central Asia Institute, which builds schools for girls in Pakistan, including in Afghan refugee camps. He'll be back in the second half of the show.
I'm Terry Gross, and this is FRESH AIR.
(Soundbite of music)
GROSS: Coming up, we call Zimbabwe and talk with journalist Andrew Meldrum. A new law makes it illegal to criticize the president, Robert Mugabe, and thegovernment is cracking down on the press. The minister of information recently accused Meldrum of being a liar and traitor. Also, we continue our conversation with Greg Mortenson.
(Soundbite of music)
GROSS: This is FRESH AIR. I'm Terry Gross, back with Greg Mortenson. In 1993, he founded the Central Asia Institute, which has created schools in Pakistan with an emphasis on educating girls. He works closely with tribal and religious leaders in the region. He divides his time between Pakistan and his home in Montana.
Now you grew up in Tanzania, near Mt. Kilimanjaro, which is the highest mountain in Africa. Your father founded the Kilimanjaro Christian Medical Center. Was your father a missionary?
Mr. MORTENSON: They went over as teachers for four years. After that, my father decided to build a hospital there in northern Tanzania. He set up the Good Samaritan Foundation. I would say they were perhaps missionaries, but more than that, they were involved in just helping with education and health care in East Africa.
GROSS: What was it like for you to be the white kid of American descent growing up in Africa?
Mr. MORTENSON: It was actually a marvelous time we had. I learned the local language, Swahili. We could run around in the coffee plantations. It was when the game parks were just getting set up. So it was just post-colonial and new democracies. People were excited. It was a wonderful time. And perhaps my main challenge was coming back here and trying to fit into this culture. And I've always felt, kind of, going back between different cultures and not knowing really where is home, but I feel it's been a very unique privilege.
Ironically, after September 11th, not once in Afghanistan or Pakistan was I either harmed or threatened or even really pushed in any rhetoric. Ironically, when I came back to the States in early November, I received a pile of hate mail and some threats. And that was–really threw me for a loop, because I wasn't expecting that when I came back here to the States.
GROSS: Who was threatening you?
Mr. MORTENSON: They were Americans, and they called me a traitor. Other people were saying that I was worse than the enemy because I was an American, quote, "helping the enemy." And I'm gone several months a year, so with my family here in the States it caused me some concern. I think most of it's based out of ignorance and the hatred. People don't really know who the enemy is, so they want to lash out with somebody that's physically viable. However, I think in many ways, the enemy is our own ignorance and also that we need to accept we're part of a global society. Some solutions I feel would also be important are bilingual education and being able to have cross-cultural exchanges between business groups or educators so that we can see ourselves in those other countries.
GROSS: You first went to Pakistan to climb K2. When you were growing up near Mt. Kilimanjaro, did you climb that mountain?
Mr. MORTENSON: Yeah, I climbed it when I was age 11. I barely made it up to the top. I was gagging and puking all the way to the top. And I went back there last year in January 2000, 28 years later, and again I climbed up to the top. I wanted to get up to the true summit. And it was about the same thing, I was–barely made it up to the top. But it was a good–it felt–it was a closure for me. Also, my father, when he came back to the States—this was in '73–he passed away just a couple years later. And we often wonder if he wasn't very happy here. And so I feel I'm much–my reward also is being able to live in different countries and work with different groups of people.
GROSS: Just curious. When you were a kid, if you gagged and puked your way up the mountain, why would you want to do it again?
Mr. MORTENSON: Well, I thought–it was something–I hadn't quite reached the summit the first time around, and I really thought I wanted to get up to the summit. And it's rather strange because I haven't climbed very much recently, and my work and my family is what I spend my time with. But I wanted to go back. I noticed things hadn't changed much. I got to see my father's hospital. I got to the top of the mountain. And it was just–I guess to climb a mountain is something–it's hard to explain, but getting up to the top is not the main thing but it's the experience, the people and just the joy of being up there and the high slopes and looking over and seeing the land below it. It's a very rewarding experience.
GROSS: When are you going back?
Mr. MORTENSON: March the 8th, I'll be going…
GROSS: Are you looking forward to it, or are you a little worried about it?
Mr. MORTENSON: Actually, I'm very excited. This is a very dynamic time. This is a beginning. There's new hope. People are very determined. The refugees will be coming back from the camps to their homes. Some of them have been gone for 10 or 20 years. There's excitement in the air. There's also restlessness and there's some uncertainty about the future. But for me, it's a very exciting time.
GROSS: Well, I wish you good luck. And I want to thank you very much for talking with us.
Mr. MORTENSON: Thanks, Terry. I really appreciate it.
GROSS:Greg Mortenson is the founder of the Central Asia Institute.
http://www.gregmortenson.com/Articles/FeaturedArticles/02-07-02NPR.html
President Bill Clinton says:
He (Greg Mortenson) is the ultimate social entrepreneur … a guy with a good idea, prepared to start small and stay with it as long as it takes to have a big impact and commit a lifetime to it. … he is effective in an area where Americans are not popular, because he relates to people as human beings.
FaithHopeandFiction: As I read your book, I was amazed by your vision and your
tenacity; that you would go from having no money and basically living in your car at one
point to establishing an institute to build schools where none exist. I understand that you
promised to build a school out of gratitude to the villagers who took care of you, but how
did your desire to serve others develop?
Greg Mortenson: I went to Tanzania as a very young child in 1958. My parents were
Midwesterners—Minnesota Lutherans. When they heard that they needed teachers for a
girls' school in Africa, they picked up and went to Africa. My father started a hospital on
the slope of Kilimanjaro, the Kilimanjaro Christian Medical Center. He had to raise $6.2
million in the 1960s. It took him the first nine years to raise $1 million, and then he raised
the next $5 million the next year. My mother started the Moshi International School in
Tanzania, so I grew up with this.
When I went to school, there were kids from about two dozen countries. I was around
Muslims, Jews, Christians, Sikhs, and Hindus, so to me that was normal. I went to a local
African school where I was the only white child. I didn't know what racism was; I had no
concept of prejudice or bias. My first week back in the States, in high school in St. Paul,
Minn., I got beaten up because they said I wasn't one of them. It was a rude awakening.
My parents and childhood experiences taught me the importance of cross-cultural
awareness and compassion, and to put words into action. I never planned to follow in my
parents' footsteps, but here I am. I believe in the inherent goodness of humankind. (When
I said that in a magazine interview, the interviewer laughed and told me nobody believed
that today.) But I do think there is great courage and compassion in people. I have two
children now, and when I look in my children's eyes, I see the kids in Afghanistan and
Pakistan. We owe it to our children to leave them a legacy of peace.
FHF: You share in the book that the subtitle changed, not only in wording but in spirit,
that puts the emphasis on peace. Tell us why the word "peace" was so important to you in
the title.
GM: When the original Viking hardcover was released in 2006, I objected to the
subtitle, "fighting terrorism…one school at a time" and wanted it to be "promoting
peace…one school at a time." However the publisher insisted that I "fight terror." So we
struck a deal with our editor at Viking Penguin. The hardcover came out with the first
subtitle: One Man's Mission to Fight Terrorism and Build Nations…One School at a
Time." But if it did well, then when it
came out in paperback, we would change
the subtitle. The hardcover did pretty
well; it sold about 70,000 copies. Then
the paperback came out in March of this
year with the subtitle, "One Man's
Mission to Promote Peace…One School
at a Time." Since we've changed the
subtitle sales of the paperback are over
250,000.
The American public yearns for peace;
we want hope. It's ignorance that breeds
hatred. When we eliminate ignorance
with knowledge we will have peace.
Jafarabad schoolgirls with Greg Mortenson in the Shegar Valley, Karakoram
Mountains, Pakistan. These are the first girls to attend school in the region. Photo:
Teru Kuwayama
FHF: Your main title, Three Cups of Tea, refers to a custom for doing business in
Pakistan and Afghanistan, of drinking three cups of tea: the first as a stranger, the second
a friend, and the third as part of the family. I'm struck by this image of being a stranger,
then a friend, and then part of the family as you do business in a culture and a religious
context that are completely different from your own. And then, when you come back to
the States, you get the word out about the work of CAI through so many different groups.
GM: I've been in about 90 cities in the past 15 months talking to 30,000 people. I've
been to the Pentagon and on Capitol Hill. I've spoken to feminist women's groups in the
Bay Area and I've been to prayer breakfasts with conservative Christians in Alabama.
There is a group of synagogues in Philadelphia where members are reading the book, and
the Muslim community in Chicago is ecstatic about it. What this shows me is that
although we've become polarized in America, the way to solve conflict is to find the
points of common interest. That place is education. I see from very conservative
Republicans to very liberal Democrats a very great interest in supporting education. We
want to solve our differences, and the one thing we can rally behind is education.
FHF: The book tells of your difficulties raising money, of needing to find a sponsor (and
finally finding that in Dr. Jean Hoerni, a Swiss born physicist who provided the first
$12,000 to build a school in Korphe, with a note that read "Don't screw up."). Amid all
the difficulties, the seemingly impossible task of raising money, upheaval in your
personal life, and knowing that you've made what must have seemed like an impossible
promise, how did you keep going?
GM: I'm blessed to have the greatest job on the planet. I love what I do. I have a saying
on my bathroom mirror: "When you heart speaks, take good notes." I'm not an
academician or a trained aide worker, but I feel this is my calling. I can't walk away from
the thousands of kids who can't go to school due to their gender or race, or because of
poverty or religious extremism. I feel called to help them get to school. That's my thing
to do on this planet.
FHF: You began your quest to raise funds to build the first school in Pakistan eight years
before September 11th. Eventually your drive to bring schools to communities that had
none put you in "harm's way," shall we say. As the book describes, you went up against
the Taliban and extremist mullahs (including two who issued a "fatwa," which amounts
to a death threat backed by a local religious leader). Back in the States, after 9/11, you
faced criticism, hate mail, and death threats from people who felt you were aiding the
enemy somehow by building schools.
GM: I had two fatwas issued against me by more extreme mullahs for educating girls,
which were both rescinded. The first one was rescinded by the Supreme Council of
Ayatollahs in Iran, the highest authority for the Shiite clergy and the second by Pakistan's
Shariat (Islamic) court. In that case, I didn't appeal the challenge. I just told the
community, "You tell me what is right."…To me the most difficult time was after 9/11
when I started getting hate mail and death threats from Americans. It was my wife who
encouraged me to get out in public and talk about what I was doing. And it turned
everything around. I realized that Americans are good and compassionate people.
FHF: In the book you relate how when you finally arrived in Korphe with the materials
and the means to build the school, the community told you that what they really needed
was a bridge to replace the only conveyance they had—a rickety basket that swayed on a
rope over the valley. Without the bridge, there would be no way to bring in the building
supplies for the school. Yet, you had promised Jean Hoerni that his $12,000 was going to
build a school—not a bridge. (In the end, he pledged the additional money you needed
for the school after the bridge was built.) What did that feel like to you?
GM: It was very disheartening. I had sold my car and my climbing gear. I had the money
from Dr. Hoerni and I was feeling triumphant and proud because I had all the school
supplies. I had fulfilled my part of the promise. Then when I got to the village—and they
didn't know I was coming back, and were very surprised to see me again—they said,
"We're grateful but you didn't think this out. Before you build a school, you're going to
have to build a bridge."
FHF: But in the end, the communities had to have a say.
GM: We hadn't had our "three cups of tea" yet. We needed to build bridges and
relationships. In my mind I was saying, "What am I going to tell the donors?" instead of,
"What does the community want?" What I have learned to do is listen. When I ask the
women of these villages what they want, they don't tell me they want a rich husband or to
be affluent. No, what they tell me is, "We don't want our babies to die." How do you
respond to that? Really it's with education.
FHF: Tell us some of stories of the children and what has happened as they were able to
go to school.
GM: In Chunda, Pakistan, we were able to send the first girl to school. It took us eight
years. Now, in Chunda there are more than 300 girls going to school. Another story is
about Aziza who comes from the Afghanistan/Pakistan border. She was the first girl to go
to school in the Charpurson Valley. When she started school, the boys threw stones at her
in the first and second grades. And then in the third and fourth grades, the teachers
refused to teach her. When she got to high school, the boys who used to throw pebbles at
her stole her notebooks. She did graduate in 1998 and wanted to become a maternal
healthcare worker because there was no doctor or medical worker in her valley of 3,000
people. Before she started, five to 20 women died every year in childbirth. After she got
her training, which took 18 months and cost $800 (which Central Asia Institute paid), she
came back to the valley as a maternal healthcare worker. Since that time not one woman
has died in childbirth.
FHF: So what is next for you?
GM: Ideally I want to work myself out of a job. I want to be an education advocate, raise
public consciousness about Islam to Americans, help eliminate the ignorance that causes
hatred, and to raise funds. We're working to make our schools all sustainable by the local
community. We're about 60 percent of the way there. When we set up a school, we set a
goal that within five years it's sustainable. About half of them will be sustainable and the
other half will need some sort of help. These are all in areas where there were never any
schools or education before, and the attrition rate is about 30 percent.
FHF: Achieving global literacy is such a huge task, and yet there you are, doing the
work.
GM: It costs $1 per month—not even per day—to educate these children. That's not that
much money at all. It's my mission to promote peace through education.
K2, at 8,611 meters in the Karakoram Mountains, Pakistan, is the world's second
tallest mountain. Mortenson's 1993 west ridge climb on K2 went up the left side on
the China/Pakistan border. http://faithhopeandfiction.com/documents/gregmortenson.pdf
4 Comments »
---